You are here
COMMERCIAL FORECLOSURE DEFENSE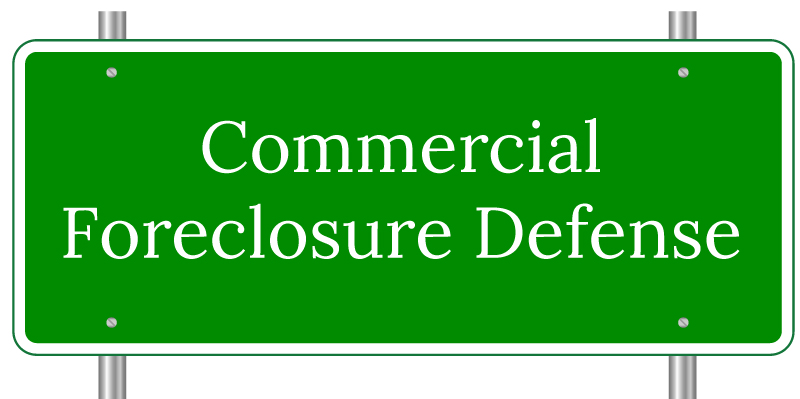 Commercial Foreclosure
Commercial foreclosures require creative solutions. A commercial foreclosure not only effects your business, but it directly impacts your family. Based on our experience defending commercial foreclosures in Broward, Miami-Dade, and Palm Beach counties, you most likely have signed a personnel guarantee. Running a business in today's economy is more difficult than ever. The Walmarts and the Amazons are eliminating America's small business community.
---

---
1.   BANK HIRES ATTORNEY TO FORECLOSE
Your lender may retain an attorney to foreclose on your business if you are behind on the mortgage payments for more than 30 DAYS.
Your lender will also attempt to collect the outstanding monies owed as well.
The law firms representing lenders are sophisticated and aggressive. They would foreclose on the 31st day if the mortgage allowed.
Based on the terms and conditions of your mortgage, a pre-suit letter may be required before filing the complaint. The pre-suit letter provides notice of your alleged failure to comply with the terms and conditions of the mortgage. This alleged failure is known as the "default". The pre-suit letter must provide you with an opportunity to cure the "default" prior to filing the complaint.
The pre-suit letter must be mailed to, and in the name of, the business. Furthermore, if there is a personal guarantee, the pre-suit letter must also be mailed to, and in the name of, you individually.
FAILURE TO COMPLY WITH THE PRE-SUIT LETTER REQUIREMENTS IS A DEFENSE TO THE FORECLSOURE.
THIS WOULD BE THE TIME TO SCHEDULE A FREE CONSOLTATION.
WE NEED TO ESTABLISH A STRATEGY TO PROTECT BOTH YOU AND YOUR BUSINESS.
---
2.   COMPLAINT IS FILED WITH THE CLERK OF COURT
If the defect is not cured pursuant to your mortgage, a commercial foreclosure complaint shall be filed in the county wherein the business is located.
THE COMPLAINT WILL SEEK TO:
Foreclose on the property.
Obtain the business assets.
Obtain money damages against the business.
Obtain money damages against you individually based on the personal guarantee.
Enforce the mortgage's receiver clause.
YOUR BANK'S ATTORNEYS MAY ATTEMPT TO ENFORCE THE RECEIVERSHIP CLAUSE CONTAINED IN MOST COMMERCIAL MORTGAGES. A COURT ORDER APPOINTING A RECEIVER MAY RESULT IN YOUR INABILITY TO MAINTAIN CONTROL OF YOUR BUSINESS. A COURT APPOINTED RECEIVER MAY TAKE CONTROL OVER YOUR COMPANY'S ASSETS, REVENUES, AND EXPENDITURES.
DON'T LOSE AUTONOMY OVER YOUR OWN BUSINESS!
CONTACT US TODAY!
---
3.   SERVICE 
After the complaint is electronically filed with the clerk of court, the bank will attempt to "serve" your business and you personally.
A BUSINESS DESIGNATES A REGISTERED AGENT WHO IS RESPONSIBLE FOR ACCEPTING SERVICE FOR THAT ENTITY.
WHO IS YOUR REGISTERED AGENT DESIGNATED TO ACCEPT SERVICE?
PERSONAL SERVICE
For an individual, service simply means that a copy of the complaint must be served by: (1) Individual service. Individual service occurs when the lawyer's process server hands you the complaint at your home or work. (2) Substitution service. Substitution service occurs when a process server hands the complaint to a relative living in your home and (3) Service by publication. Service by publication occurs when the lawyer notifies you of the complaint by publishing it in a newspaper in the county where the property is located. Service by publication is often utilized to avoid giving you the opportunity to defend yourself.
Service by substitution and publication can be challenged by examining the "affidavit of service" generated by the process server. We have seen countless examples in which an individual "accepted" service without authority on behalf of the Defendant. It is common for Plaintiff's firms to use service by substitution or publication, by avoiding individual service, without exercising "due diligence". When this occurs, we can quash service and stop the foreclosure from moving forward.
LEAVING THE COMPLAINT AT YOUR FRONT DOOR IS NOT SERVICE. 
FAILURE TO SERVE THE REGISTERED AGENT IS GROUNDS TO QUASH SERVICE.
ONCE YOUR REGISTERED AGENT IS SERVED, YOUR BUSINESS MUST BE RE[RESENTED BY AN ATTORNEY.
FLORIDA LAW REQUIRES YOUR BUSINESS TO BE REPRESENTED BY AN ATTORNEY.
DO NOT SUBJECT YOUR BUSINESS TO A DEFAULT FOR LACK OF REPRESENTATION.
---
4.   DEFAULT
UPON DEFAULT, YOU NO LONGER CAN DEFEND YOUR BUSINESS OR YOURSELF.
Once "served", you must file a "responsive pleading" with the clerk of court and the Plaintiff's attorney within twenty (20) days of service. Failure to file a responsive pleading within 20 days from service shall result in a default. 
QUITE OFTEN THE BANK'S LAWYERS WILL SERVE BY PUBLICATION TO EXPEDITE A DEFAULT.  DEFAULTS ARE OFTEN OBTAINED THROUGH IMPROPER SERVICE.
DO NOT LET A DEFAULT BE ISSUED. WHEN A DEFAULT IS ENTERED, YOU HAVE ADMITTED TO:
Agreeing to the terms and conditions of the note, mortgage, and guarantee, including late fees, interest, and attorney fees.
Executing the note, mortgage, and personal guarantee.
Proper pre-suit notice.
Failing to pay.
 Judgement.
Standing.
UPON DEFAULT, YOU CANNOT FILE:
Responsive pleading(s).
Motion to dismiss.
Affirmative defenses.
IF A DEFAULT IS ENTERED, THE ONLY ISSUE THAT CAN BE RAISED IS THE AMOUNTS OWED.
UPON A DEFAULT, THE BANK'S ATTORNEYS ARE NOT REQUIRED TO PROVIDE YOU WITH HEARINGS, PLEADINGS, FILINGS, and MOTIONS. 
MOST IMPORTANTLY, YOU MAY NOT RECEIVE THE NOTICE OF HEARING AND MOTION FOR DEFAULT FINAL JUDGEMENT. 
THE DEFAULT RESULTS IN A FINAL JUDGEMENT WITHOUT PRIOR NOTICE, THE RIGHT TO PROCEED WITH THE SALE OF YOUR PROPERTY, THE TAKING OF YOUR BUSINESS ASSETS, AND THE RIGHT TO SEEK MONEY FROM YOU INDIVIDUALLY.
WE CAN PREVENT A DEFAULT. WE KNOW WHAT TO FILE. DEPENDING ON YOUR SITUATION, WE SHALL FILE:
A motion for extension of time to respond to the complaint.
A motion to dismiss the complaint.
An answer and affirmative defenses.
EVEN IF A DEFAULT HAS BEEN ENTERED WE CAN STILL HELP. WE CAN FILE A MOTION TO VACATE THE DEFAULT AND OR A MOTION TO QUASH SERVICE.
---
5.   SUMMARY JUDGEMENT
In almost every case, the bank files a motion for summary judgement. A summary judgement motion is an invaluable weapon for your lender to obtain a sale date saving time and money by avoiding the need for a trial.
At a summary judgement hearing, witness testimony is not allowed. Evidence can only be presented through the pleadings that have been timely filed. The bank's attorney, based solely on the documents filed, will argue before the Court that there are no questions of fact and law. 
The motion for summary judgement can be filed on the 21st day from service and set for hearing as soon as the judge is available.
DEFENDING AGAINST SUMMARY JUDGEMENT
The most effective tool in preventing summary judgement is an affidavit in opposition to the motion. The affidavit creates a question of fact that prevents summary judgement precluding the bank from selling your property, seizing business assets, or attempting to collect personally on the money owed. We will review all the documents with you and prepare the affidavit in opposition to the motion. 
Another effective tool in preventing summary judgement is by filing an answer and affirmative defenses to the complaint. When filed, the answer creates issues of law preventing summary judgement.
---
6.   DEFENSES TO COMMERCIAL FORECLOSURE
USURY
EQUITABLE ESTOPPEL
STATUTE OF LIMITATIONS
BREACH GOOD FAITH/FAIR DEALING
LACK OF NOTICE / DEFECTIVE NOTICE
FRAUDULENT INDUCEMENT TO DEFAULT
LACK OF CONSIDERATION PURSUANT TO THE UCC
TRANSFER OF THE NOTE AND MORTGAGE MAY NULLIFY YOUR PERSONAL GUARANTEE 
AT MIDLER & KRAMER, WE DO NOT RELY ON THE DOCUMENTS PROVIDED BY THE BANK, WE CHALLENGE THEM. 
EVERY DOCUMENT PROVIDED SHALL BE SCRUTINIZED AND ANALYZED THROUGH DISCOVERY, DEPOSITIONS AND MOTIONS. 
THE BANK IS RESPONSIBLE FOR MAINTAINING THE DOCUMENTS CONCERNING YOUR ACCOUNT, AND OFTEN THESE INDIVIDUALS CANNOT ANSWER OUR QUESTIONS.
THIS CAN LEAD TO A POTENTIAL VICTORY AT SUMMARY JUDGEMENT, TRIAL, AND FAVORABLE NEGOTIATIONS AT MEDIATION.
MEDIATION
MEDIATION IS A VERY EFFECTIVE TOOL TO RESOLVE A COMMERCIAL FORECLOSURE.
MEDIATION BRINGS THE PARTIES TO THE TABLE IN AN ATTEMPT TO RESOLVE THE DISPUTE.
THROUGH AN IMPARTIAL MEDIATOR, WE WILL MAKE EVERY ATTEMPT TO REDUCE THE AMOUNT OWED, AND SET FORTH A REASONABLE PAYMENT PLAN RESULTING IN A DISMISSAL OF THE LAW SUIT.
JUDGEMENT
IF A JUDGEMENT IS ENTERED, A SALE MAY OCCUR ON THE CLERK'S WEBSITE 35 DAYS FROM JUDGEMENT.
IN ADDITION, THE BANK WILL HAVE A RIGHT TO IMMEDIATLEY COLLECT ON THE PERSONAL GUARANTEE.
THE BANK MAY ATTEMPT TO SEIZE FAMILY ASSETS.
---
7.   SALE DATE
On the sale date, the property is auctioned and typically your lender is the winning bidder. You should receive a notice of sale in the mail but so often we are told that does not happen. 
You can track the online auction of your property by going to:
PALM BEACH COUNTY: https://mypalmbeachclerk.clerkauction.com/
BROWARD COUNTY: https://www.broward.realforeclose.com/index.cfm?zaction=USER&zmethod=CALENDAR
MIAMI-DADE COUNTY: https://www.miamidade.realforeclose.com/index.cfm?zaction=USER&zmethod=CALENDAR
DEFICIENCY JUDGEMENT
If the property is sold for an amount less than the final judgement, this is known as being "upside down". The bank may seek the deficiency and file a separate law suit demanding the difference between what you owe and the value of the property.
SURPLUS FUNDS
We can file a motion for surplus funds if the property is sold for more than the judgement.
CERTIFICATE OF TITLE
The day after the sale, the clerk of court shall issue a certificate of sale and after 10 days, if no objection is filed, title to your property will transfer.
Certificate of title is issued by the clerk of court 10 days from the certificate of sale which transfers ownership of your property to the winning bidder. Once the certificate is issued, you are no longer the owner of the property nor the assets within.
---
8.   WRIT OF POSSESSSION
Once the new owner obtains the certificate of title, they will file a motion for writ of possession.
IN MIAMI-DADE, BROWARD, AND PALM BEACH COUNTIES, THERE ARE NO HEARINGS ON THE MOTION AS THE FINAL JUDGEMENT INCLUDES LANGUAGE THAT PERMITS AN ORDER OF EVICTION FROM THE CLERK ONCE TITLE TRANSFERS.
YOU WILL NOT KNOW ABOUT THE WRIT OF POSSESSION UNTIL A 24-HOUR EVICTION NOTICE IS POSTED ON YOUR DOOR.
---
9.   24 HOUR EVICTION
YOU HAVE ONLY 24 HOURS TO VACATE THE PREMISES. THE 24 HOUR EVICTION NOTICE INCLUDES WEEKENDS AND HOLIDAYS. There is nothing you can do to delay or stop the eviction absent a Court order provided to the sheriff.
WE HAVE DONE IT, WE CAN DO IT, CALL US.
WE ARE AVAILABLE 24/7 TO FILE AN EMERGENCY MOTION TO STOP THE EVICTION.
WE WILL IMMEDIATELY CONTACT THE NEW OWNER TO NEGOTIATE:
Extension of time.
Lease agreement.
Short payoff.
Cash for keys.
PLEASE CONTACT US FOR A FREE CONSULTATION.
COMMERCIAL FORECLOSURE DEFENSE IN FT. LAUDERDALE, BROWARD, MIAMI-DADE, PALM BEACH, AND THROUGHOUT THE STATE OF FLORIDA.
Who We Are
Wayne Scott Kramer and Lewis Steven Midler, MIDLER & KRAMER, P.A.
Midler & Kramer, P.A. is a family run law firm which began in 2001. Together, we bring 46 years of combined legal experience in order to achieve your goals. As family, we have developed excellent communication transforming our firm into an aggressive legal team. A common complaint about lawyers is a lack of communication with their clients.
We understand this frustration and that is why you will have access to your case 24 hours a day.
MR. MIDLER WAS A FORMER ASSISTANT STATE ATTORNEY, BROWARD COUNTY, FLORIDA, AND IS READY TO WORK FOR YOU!
---
The Law Offices of Midler & Kramer, P.A.
120 East Oakland Park Blvd, Suite 203
Fort Lauderdale, FL 33334
(954) 567-0300 - (561) 929-3051
---
To reach us by email click here