You are here
Sex Crimes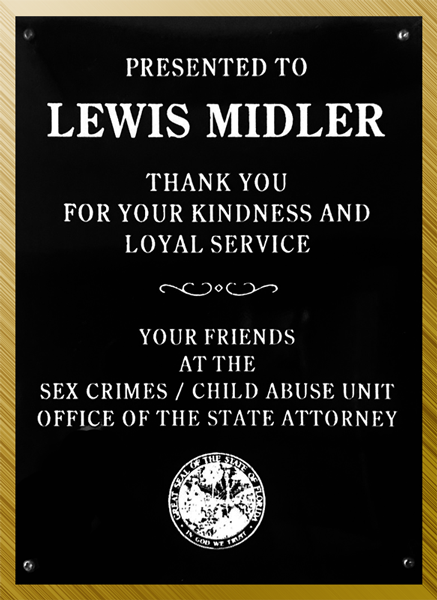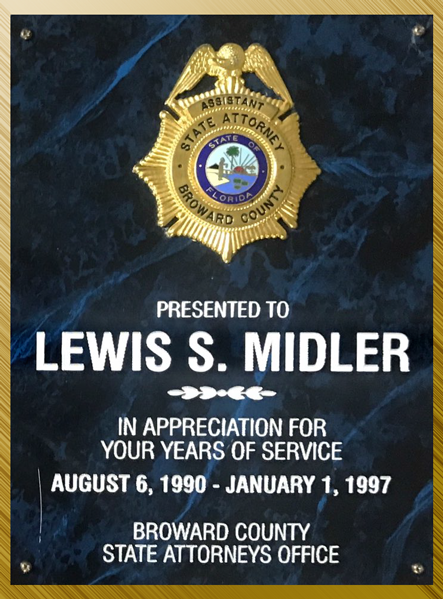 LET A FORMER SEX CRIMES PROSECUTOR WORK FOR YOU
SEX CRIMES
If someone you know is being accused, investigated or charged with any sexual offense, now is the time to consult with a defense attorney who has the experience, knowledge, and understanding of how the criminal justice system operates against an accused facing a sex crime allegation in the State of Florida.  Any sex crime allegation in Florida automatically invokes unique laws, evidence, police officers, and prosecutors; all designed to convict and incarcerate the accused. The process begins with a pre-filing interview. 
  PRE-FILING INTERVIEW
If you have been arrested or accused of a sex crime please understand that the State Attorney's Office, Sex Crimes Unit, will take approximately 21 days to make a "filing" decision against you.  During this time, a sex crimes detective shall take sworn statements from an alleged victim, collect evidence, and interview witnesses.  Within this period, the detective will complete the investigation, and then a "pre-filing interview" shall be conducted at the State Attorney's Office with the alleged victim, the detective, and a sex crimes prosecutor assigned to the case.  The prosecutor can formally charge an individual with a sex crime, change the charge, or decline the case as well.
DO NOT RELY ON THE GOVERNMENT'S CASE. CHALLENGE IT!
These 21 days are crucial to any individual facing a sex crime allegation.  The best defense to a sex crime allegation is to conduct an independent investigation.  This investigation is invaluable for the purposes of gathering exculpatory evidence.  An alleged victim's motive, bias, and prejudice is always relevant and therefore must be explored by a private investigator.  Who reported this alleged incident?  What was his or her motive, bias, and prejudice.   Motive is the most significant piece of evidence overlooked by defense attorneys in proving the government's allegation of a sex crime is nothing but a sham.
I highly recommended that you retain a private investigator to conduct such an Investigation.  This alone can make a difference between prison and freedom.  I employ only highly seasoned, well trained, ex-law enforcement officers who have the knowledge and understanding in how to investigate a sex crime allegation. 
After your investigation is complete, I shall meet with the detective and the sex crime prosecutor to persuade the State Attorney's Office not to file charges against you.  An open, transparent, and honest line of communication with the detective and prosecutor is invaluable for: bond, evaluation of alleged evidence, discovery issues, and potential plea negotiations.  Any individual accused of a sex crime must retain an experienced defense team capable of protecting you throughout this difficult process.
SEXUAL OFFENDER & SEXUAL PREDATOR REGISTRATION
Sexual offender and sexual predator registration is an undue hardship prohibiting and limiting where an individual can live, work, or even buy groceries.  Sex offender registration is for life.  From enjoying parks, watching a ball game, attending school, and having contact with the general public, registering as a sexual offender and predator limits these daily life routines we all take for granted. 
Florida law REQUIRES registration to those who are convicted of a qualifying sex offense.  Sexual offender and sexual predator registration requires an individual to report in person to the sheriff's office in the county in which he or she resides.  If an individual is somehow granted permission to leave Florida, he or she must register as an offender immediately upon arriving in the new jurisdiction.  Mandatory reporting is only one component designed to alienate and ostracize an individual convicted of a sex crime. 
An individual must report to the Department of Safety and Motor Vehicles.  A sex offender's driver's license shall be branded "sexual predator or 943.0435, F.S."  Failure to maintain, acquire, or renew a driver's license, or ID card as required is a third degree felony punishable up to 5 years in Florida State Prison.
A registered sex offender or predator must disclose his or her "INTERNET IDENTIFIER".  Internet identifier is defined as any screen name, user name, or other name used for self-identification to send or receive social internet communication.  Every web site homepage and or application software name must be disclosed.
If a registered sex offender or predator is enrolled, or employed, whether for compensation or as a volunteer, at an institution of HIGHER EDUCATION in Florida, he or she must report such activity to law enforcement.
Sexual offender and predator registry is available via the world wide web for EVERYONE TO SEE.  Florida's Department of Law Enforcement, Broward, Dade, Palm Beach County Sheriff's Office, local police agencies, local municipalities, newspapers, and television networks all have web links.  These web links provide offender, neighborhood, university, and interactive maps, that identify, locate, and track sexual offenders and predators within the State of Florida.
FORMER PROSECUTOR
While I was a student attending Nova Southeastern University School of Law, I became a certified legal intern prosecuting cases for the Broward County State Attorney's Office in the Spring of 1990.  I prosecuted misdemeanor cases in county court prior to my admission to the Florida Bar.
Upon being admitted to the practice of law by the Florida Bar in September 1990, I was employed as an Assistant State Attorney by the Broward County State Attorney's Office.  I was responsible for prosecuting individuals accused of misdemeanors such as driving under the influence, petit theft, assault, and battery.  In September 1992, I was promoted to county court supervisor.
In December 1992, I was promoted to felony circuit court responsible for prosecuting individuals accused of aggravated battery, aggravated assault, robbery, burglary, firearm offenses and felony narcotic violations.  In November 1993, I was promoted to lead prosecutor, felony trial unit.
FORMER SEX CRIME PROSECUTOR
In August 1994, I was promoted and assigned to the Broward County Sex Crimes / Child Abuse Unit.  As a former sex crimes prosecutor, I conducted numerous "pre-filing interviews".  I communicated consistently with sex crime detectives and made the ultimate decision whether to charge an individual with a sex crime. 
As such, I conducted numerous forensic interviews with alleged sexual assault victims.  This is where I learned the skills to understand the state of mind of an individual who alleges sexual assault.  As a sex crimes prosecutor, I reviewed, was responsible for, and admitted evidence in court uniquely associated with sex crimes such as: DNA, Hair, Fiber and Child Hearsay. 
A great number of alleged sex crimes involve the use of electronic devices that access the internet.  Today's law enforcement has the ability to extract the data from electronic devices such as work / home computers, tablets, and cellular phones.  A criminal defense attorney must be familiar with "extraction reports" that result in "data dumps" by law enforcement.  This data include call logs, chats, IMessages, contacts, locations, MMS messages, SMS messages, user accounts, and data files including images and videos that are all conflated into a "timeline".  A defense attorney who represents an individual accused of a sex crime must have the knowledge, understanding, and familiarity, in handling this type of electronic evidence.  
Failure of law enforcement to properly secure, maintain, and process evidence can be the difference between guilty and not guilty. 
A defense attorney who does not know how evidence is to be secured, maintained, and processed, should not represent an individual accused of a sex crime.   
An attorney who defends an individual charged with a sex crime must understand what substantial competent evidence is, and its application to today and tomorrow's law.  It is a combination of both fact and law that must be presented and argued to a sex crime detective, a prosecutor and the court.
 Is your statement admissible?  Is there a chain of custody issue concerning the evidence?  Can a Jury rely on serology testing? Is the evidence reliable, or should we have it independently examined and tested?  Can electronic evidence be manipulated?
Upon leaving the State Attorney's Office in 1997, I have dedicated my professional life defending individuals charged with serious crimes.  Please utilize my extensive training, background and experience to defend and protect you.  I will carefully examine each aspect of your case including the interviews, the crime scene evidence, and most importantly the alleged victim.  Motive, intent, bias, and prejudice of the government's alleged victim and witnesses shall be brought forth before the detective, prosecutor, and court.
 24 HOURS A DAY 7 DAYS A WEEK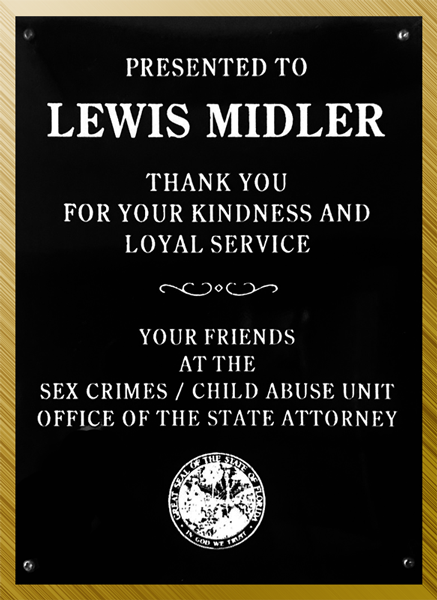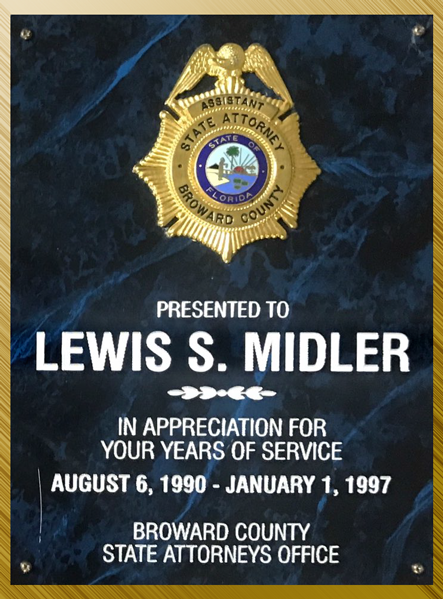 Who We Are
Wayne Scott Kramer and Lewis Steven Midler, MIDLER & KRAMER, P.A.
Midler & Kramer, P.A. is a family run law firm which began in 2001. Together, we bring 46 years of combined legal experience in order to achieve your goals. As family, we have developed excellent communication transforming our firm into an aggressive legal team. A common complaint about lawyers is a lack of communication with their clients.
We understand this frustration and that is why you will have access to your case 24 hours a day.
MR. MIDLER WAS A FORMER ASSISTANT STATE ATTORNEY, BROWARD COUNTY, FLORIDA, AND IS READY TO WORK FOR YOU!
---
The Law Offices of Midler & Kramer, P.A.
120 East Oakland Park Blvd, Suite 203
Fort Lauderdale, FL 33334
(954) 567-0300 - (561) 929-3051
---
To reach us by email click here