You are here
CREDIT CARD DEFENSE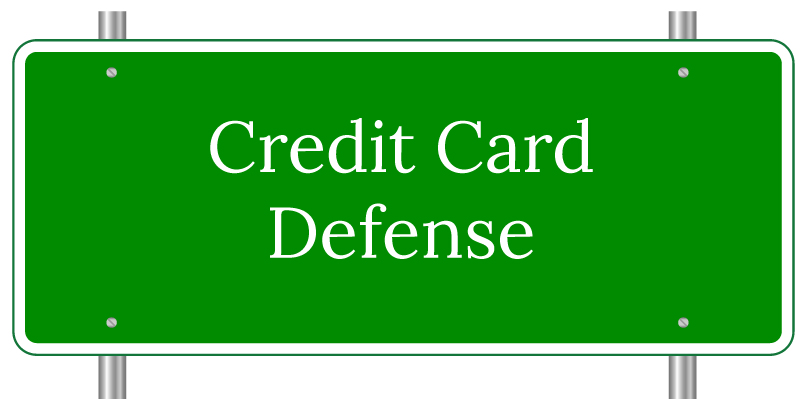 We use credit cards for groceries, medical bills, gas for our cars and food for our table.
IT IS EASY TO FALL BEHIND ON OUR CREDIT CARDS.
CREDIT CARD COMPANIES HAVE 5 YEARS FROM YOUR LAST PAYMENT TO SUE YOU.
---

---
1.   DEBT BUYERS
There are hundreds of companies, known as DEBT BUYERS that pay credit card companies for delinquent credit card accounts. These debt buyers pay pennies on the dollar for a debt and then try to collect.
HOW MANY PHONE CALLS OR LETTERS HAVE YOU RECEIVED FROM:
ABSOLUTE RSOLUTIONS CORP
ASSET RECOVERY ASSOCIATES
GOTHAM COLLECTION SERVICES
NATIONAL RECOVERY SOLUTIONS, LLC
NCB MANAGEMENT SERCVICES, INC
CAVALARY PORTFOLIO SERVICES
YOU CAN NOT IGNORE THE PHONE CALLS!
YOU CAN NOT THROW AWAY THE LETTERS!
THE DEBT BUYERS CAN FREEZE YOUR BANK ACCOUNTS AND GARNISH YOUR SALARY!
---
2.   ASSIGNMENT OF DEBT
Florida Statute 559.715 requires a credit card holder to receive written notice if your credit card account is sold or transferred. This is commonly referred to as an assignment of debt.
MOST DEBT BUYERS FAIL TO PROVIDE THE ASSIGNMENT OF DEBT NOTICE.
THE FAILURE TO SEND THE ASSIGNMENT OF DEBT NOTICE IS OFTEN DUE TO THE EXPIRATION OF THE 5 YEAR STATUTE OF LIMITATIONS.
WE CAN FILE A MOTION TO DISMISS THE CASE FOR FAILURE TO COMPLY WITH THE STATUTE OF LIMITATIONS.
Debt buyer's lawyers receive bonuses based on how much they collect, or how high of a judgement they can obtain against a credit card holder. These law firms are nothing more than "mills" that have no incentive to follow laws that protect Florida consumers.
---
3.   COMPLAINT IS FILED WITH CLERK OF COURT
The complaints generated by credit card attorneys are "cut and paste". A review of the complaints filed in Miami-Dade, Broward, and Palm Beach coutnies show they are nothing more than forms that are created by the thousands.
CREDIT CARD COMPLAINTS ARE FACIALLY DEFICIENT AND SUBJECT TO A MOTION TO DISMISS.
GIVE US AN OPPORTUNITY TO SHOW YOU WHY THE COMPLAINT IS DEFICIENT.
YOUR COMPLAINT FAILS TO ALLEGE ONE OR MORE OF THE FOLLOWING ESSENTIAL ELEMENTS:
THE NAME OF THE ORIGINAL CREDIT CARD COMPANY.
THE CREDIT CARD AGREEMENT.
CREDIT CARD APPLICATION WITH YOUR SIGNATURE.
THE PAYMENT HISTORY.
THE ACCOUNT NUMBER.
THE ASSIGNMENT OF ACCOUNT.
THE 559.715 NOTICE OF ASSIGNMENT LETTER.
THE DATE OF THE LAST PAYMENT.
YOUR PEDIGREE INFORMATION SUCH AS DATE OF BIRTH, SOCIAL SECURITY NUMBER, OR ADDRESS.
FAILURE OF A COMPLAINT TO CONTAIN THE ABOVE RELEVANT AND NECESSARY INFORMATION SUBJECTS THE LAW SUIT TO A WELL-FOUNDED MOTION TO DISMISS.
---
4.   SERVICE OF CREDIT CARD COMPLAINT
After the complaint is electronically filed with the clerk of court, the debt-buyer will attempt to "serve" you with the law suit. Service simply means that a copy of the complaint must be served by: (1) Individual service. Individual service occurs when the lawyer's process server hands you the complaint at your home or work. (2) Substitution service. Substitution service occurs when a process server hands the complaint to a relative living in your home, and (3) Service by publication. Service by publication occurs when the lawyer notifies you by publishing the credit card complaint in a local newspaper.  Quite often, in Miami-Dade, Broward, and Palm Beach counties, the Plaintiff's mills will not attempt individual service to save money on a process server and attempt to serve by publication.  This makes it easier to obtain a default as they are often obtained through improper service. 
QUASHING SERVICE
Service by substitution and publication can be challenged by examining the "affidavit of service" generated by the Plaintiff's process server. We have seen countless examples in which an individual "accepted" service without authority on behalf of the debtor. It is common practice for Plaintiff's firms to use service by substitution and publication without exercising "due diligence" by attempting individual service. When this occurs, we can quash service and stop the credit card case from moving forward.
LEAVING THE COMPLAINT AT YOUR FRONT DOOR IS NOT SERVICE. THIS IS ANOTHER EXAMPLE OF THE CREDIT CARD COMPANY'S GREED VIOLATING YOUR RIGHTS AS AN INDIVIDUAL.
---
5.   DEFAULT
ONCE YOU ARE "SERVED" WITH THE COMPLAINT, YOU MUST FILE A "RESPONSIVE PLEADING" WITH THE CLERK OF COURT AND THE CREDIT CARD ATTORNEY WITHIN TWENTY (20) DAYS OF SERVICE.
FAILURE TO FILE A RESPONSIVE PLEADING WITHIN 20 DAYS FROM SERVICE SHALL RESULT IN A DEFAULT.
DO NOT LET A DEFAULT BE ISSUED AGAINST YOU. WHEN A DEFAULT IS ENTERED, YOU HAVE ADMITTED TO:
ENTERING INTO THE CREDIT CARD AGREEMENT.
AGREEING TO THE TERMS AND CONDITIONS INCLUDING LATE FEES, INTEREST, AND ATTORNEY FEES.
FAILING TO PAY.
STANDING.
THE STATUTE OF LIMITATIONS HAS NOT EXPIRED.
JUDGEMENT.
UPON DEFAULT, YOU CANNOT FILE:
RESPONSIVE PLEADING(S).
MOTIONS TO DISMISS.
AFFIRMATIVE DEFENSES.
IF A DEFAULT IS ENTERED AGAINST YOU, THE ONLY ISSUE THAT CAN BE RAISED IS THE AMOUNTS OWED.
Upon a default, the credit card company does not have to give you notice of anything, including but not limited to hearings, pleadings, filings and motions.
Most importantly, you may not receive the notice of hearing and motion for default final judgement.
THE DEFAULT RESULTS IN A FINAL JUDGEMENT WITHOUT PRIOR NOTICE. 
A DEFAULT ALLOWS THE CREDIT CARD COMPANY TO PROCEED WITH A GARNISHMENT OF YOUR WAGES OR FREEZING YOUR BANK ACCOUNT.
We can prevent a default. We know what to file. Depending on your situation, we shall file:
A motion for extension of time to respond to the complaint.
A motion to abate proceeding.
A motion to dismiss the complaint.
An answer and affirmative defenses.
EVEN IF A DEFAULT HAS BEEN ENTERED WE CAN STILL HELP.  WE CAN FILE A MOTION TO VACATE THE DEFAULT AND OR A MOTION TO QUASH SERVICE.
---
6.   SUMMARY JUDGEMENT
In almost every case, the credit card company files a motion for summary judgement. A summary judgement motion is an invaluable weapon to obtain a judgement saving time and money by avoiding the need for a trial. At a summary judgement hearing, witness testimony is not allowed! Evidence can only be presented through the pleadings that have been timely filed. The attorney, based solely on the documents filed, argues before the Court that there are no questions of fact and law.
The motion for summary judgement can be filed on the 21st day from service and set for hearing as soon as the Judge is available.
DEFENDING AGAINST SUMMARY JUDGEMENT
The most effective tool in preventing summary judgement is an affidavit in opposition to the motion. The affidavit creates a question of fact that prevents summary judgement precluding the credit card company from garnishing your wages or bank account. We will review all the documents with you and prepare the affidavit in opposition to the motion. Once executed, we will file the affidavit.
Another effective tool in preventing summary judgement is filing an answer and affirmative defenses to the complaint. When filed, the answer creates issues of law preventing summary judgement.
TRIAL
CAN WE WIN?
WE MUST DETERMINE THE FOLLOWING:
WHO IS THE ENTITY BRINGING FORTH THE LAW SUIT?
DO THEY HAVE THE RIGHT TO SUE YOU?
DID THEY PROPERLY TAKE OWNERSHIP OF THE ACCOUNT FROM THE PRIOR CREDITOR?
HAVE THEY COMPLIED WITH THE TERMS AND CONDITIONS OF THE CREDIT CARD AGREEMENT?
DOES THE COMPLAINT SUPPORT A JUDGEMENT?
WE NEED TO UNCOVER THE WHO WHAT AND WHERE AS TO THE:
ORIGINAL CREDIT CARD COMPANY.
ANY ASSIGNMENTS / TRANSFERS OF THE ACCOUNT.
PAYMENT HISTORY.
HOW DOES THE PLAINTIFF KNOW YOUR PAYMENT HISTORY?
AT MIDLER & KRAMER, WE DO NOT RELY ON THE DOCUMENTS PROVIDED BY THE CREDIT CARD COMPANY, WE CHALLENGE THEM.   
EVERY DOCUMENT PROVIDED SHALL BE SCRUTINIZED AND ANALYZED.
THE CREDIT CARD COMPANY IS RESPONSIBLE FOR MAINTAINING THE DOCUMENTS CONCERNING YOUR ACCOUNT, AND OFTEN THESE INDIVIDUALS CANNOT ANSWER OUR QUESTIONS.
THIS CAN LEAD TO A POTENTIAL VICTORY AT SUMMARY JUDGEMENT, TRIAL, AND FAVORABLE NEGOTIATIONS AT MEDIATION.
MEDIATION
MEDIATION IS A VERY EFFECTIVE TOOL TO RESOLVE A CREDIT CARD CASE.
MEDIATION BRINGS ALL THE SIDES TO THE TABLE IN AN ATTEMPT TO "WORK IT OUT".
THROUGH AN IMPARTIAL MEDIATOR, WE WILL MAKE EVERY ATTEMPT TO REDUCE THE AMOUNT OWED AND SET FORTH A PAYMENT PLAN YOU CAN AFFORD.
---
7.   JUDGEMENT
FACT INFORMATION SHEET
IF A JUDGEMENT IS ENTERED, THE CREDIT CARD COMPANY WILL REQUIRE YOU TO COMPLETE A FORM CALLED A FACT INFORMATION SHEET. THE FORM REQUIRES YOU TO DISCLOSE YOUR ASSETS, BANK ACCOUNTS, AND SOURCES OF INCOME. 
 THE FACT INFORMATION SHEET PROVIDES THE CREDIT CARD ATTORNEY WITH MOST OF YOUR FINANCIAL INFORMATION THAT YOU WOULD NEVER BE COMPELLED TO DISCLOSE UNLESS YOU WERE AUDITED BY THE INTERNAL REVENUE SERVICE.
  THE INFORMATION CONTAINED WITHIN THE FACT INFORMATION SHEET CAN BE USED TO GARNISH OR SEIZE YOUR ASSETS.  
 WE HAVE PROVIDED YOU WITH A SAMPLE COPY OF THE FORM.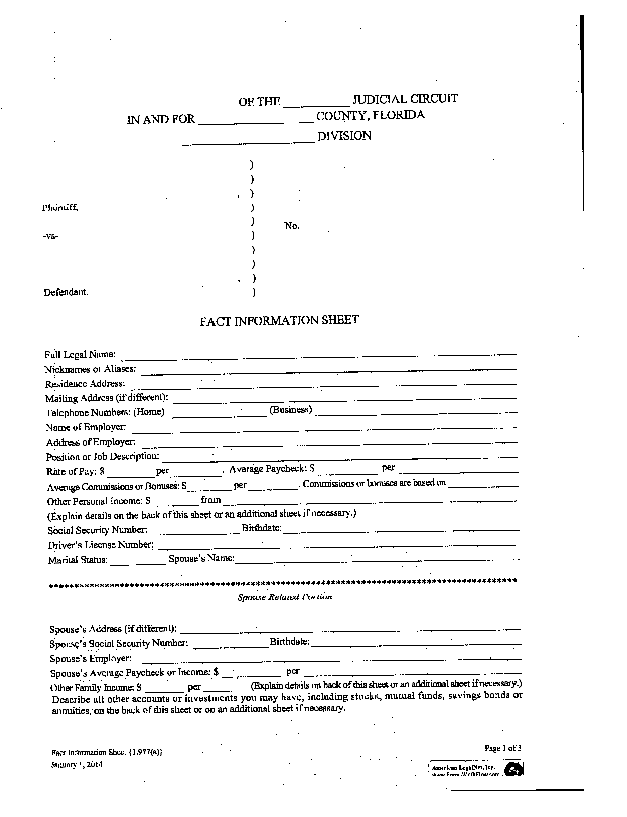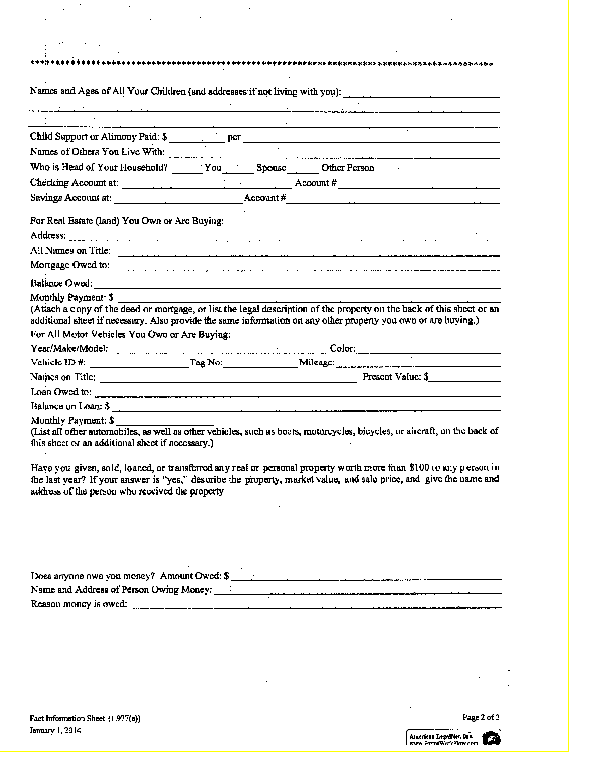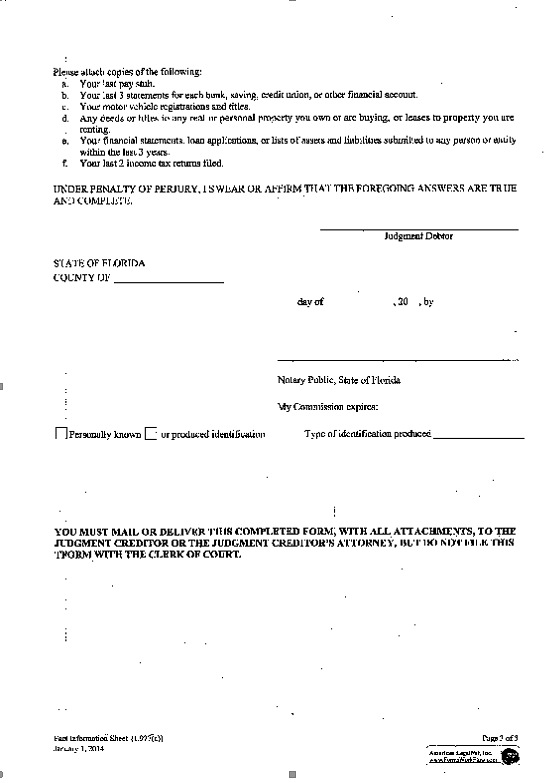 THE FACT INFORMATION SHEET MUST BE COMPLETED IN ITS ENTIRETY AND RETURNED TO THE PLAINTIFF'S ATTORNEY WITHIN 30 DAYS.  FAILURE TO COMPLETE AND RETURN THE FORM MAY RESULT IN AN ORDER TO COMPEL SIGNED BY YOUR JUDGE.
IF THE FACT INFORMATION SHEET IS NOT COMPLETED AND RETURNED TO THE PLAINTIFF'S ATTORNEY WITHIN THE TIME PROVIDED BY YOUR JUDGE, THE PLAINTIFF CAN THEN SEEK AN ORDER OF SANCTIONS.
YOUR CONTINUED FAILURE TO COMPLY WITH THE JUDGE'S ORDER MAY RESULT IN A CONTEMPT ORDER.  
IF A CONTEMPT ORDER IS ISSUED AGAINST YOU, THEN THE COURT MAY ISSUE A WRIT OF BODILY ATTACHMENT WHICH WILL RESULT IN YOUR INCACERATION UNTIL YOU APPEAR BEFORE THE COURT.
DO NOT PLACE YOURSELF IN THIS POSITION FOR NOT COMPLETING THE FACT INFORMATION SHEET.
ADDITIONALLY, THE JUDGEMENT WILL BE REPORTED TO THE CREDIT AGENCIES, IMPACTING YOUR ABILITY TO OBTAIN A CAR, HOME LOAN, OR OBTAIN A NEW CREDIT CARD.
CALL MIDLER & KRAMER, P.A. TO DISCUSS YOUR OPTIONS. PREVENT THESE DEBT BUYERS FROM TAKING YOUR MONEY AND DESTROYING YOUR CREDIT AT THE SAME TIME.
CREDIT CARD DEFENSE IN FT. LAUDERDALE, BROWARD, MIAMI-DADE, PALM BEACH, AND THROUGHOUT THE STATE OF FLORIDA.
Who We Are
Wayne Scott Kramer and Lewis Steven Midler, MIDLER & KRAMER, P.A.
Midler & Kramer, P.A. is a family run law firm which began in 2001. Together, we bring 46 years of combined legal experience in order to achieve your goals. As family, we have developed excellent communication transforming our firm into an aggressive legal team. A common complaint about lawyers is a lack of communication with their clients.
We understand this frustration and that is why you will have access to your case 24 hours a day.
MR. MIDLER WAS A FORMER ASSISTANT STATE ATTORNEY, BROWARD COUNTY, FLORIDA, AND IS READY TO WORK FOR YOU!
---
The Law Offices of Midler & Kramer, P.A.
120 East Oakland Park Blvd, Suite 203
Fort Lauderdale, FL 33334
(954) 567-0300 - (561) 929-3051
---
To reach us by email click here