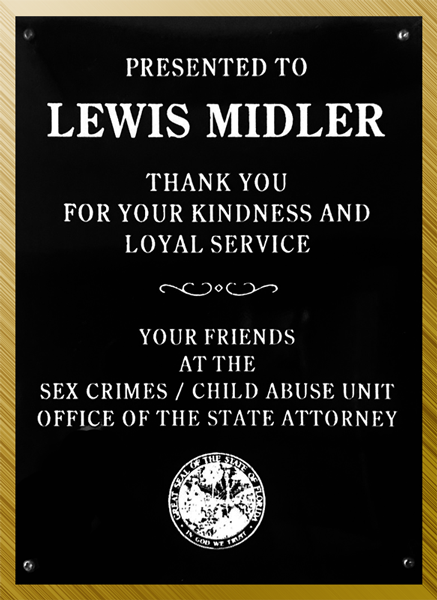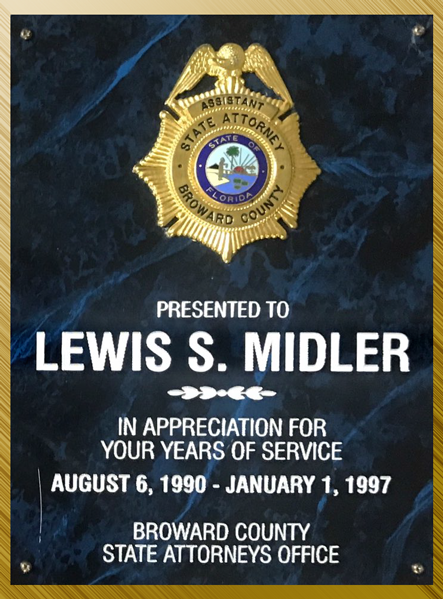 THE STATE ATTORNEY'S OFFICE 
WILL CHARGES BE FILED?
In practicing criminal law for 28 years in the tri-county area, I have come to learn that the police can arrest any one of us.  The arrest results in your incarceration at the county jail.
Despite your arrest:
PLEASE UNDERSTAND YOU HAVE BEEN CHARGED WITH NOTHING.
It is the sole responsibility of your local State Attorney's Office to charge and prosecute you with a crime.  The State Attorney's Office can file charges against you as reflected in your arrest.  The office can change the charge as they deem fit. The office can decline charging you at all.
21 DAY - PRE-FILING INTERVIEW
Once you have been arrested, please understand the State Attorney's Office will take approximately 21 days to make a "filing" decision against you.  The arresting officer or detective shall take sworn statements from the alleged victim, witnesses, and attempt to collect evidence.  During this time all the information gathered by law enforcement will be sent to the State Attorney's Office in the county where the arrest occurred.  
A "pre-filing interview" shall be conducted at the State Attorney's Office with the alleged victim, (if applicable) detective, arresting officer(s) and the prosecutor assigned to the case.
This is when the State Attorney's Office will decide whether:
 "THERE IS A REASONABLE LIKELIHOOD OF SUCCESS IN A CRIMINAL PROSECUTION."
These 21 days are crucial to any individual facing potential criminal charges. The best defense to any allegation is to conduct an independent investigation. This investigation is invaluable for the purposes of gathering exculpatory evidence.  Does a victim or witness have a motive, bias, or prejudice.  What was the reporting individual's intent?  Motive is the most significant piece of evidence overlooked by defense attorneys.
Evidence gathered from your independent investigation shall be presented to the detective, prosecutor and the Court.  I highly recommended that you retain a private investigator. This alone can make a difference between prison and freedom.  I employ only highly seasoned, well trained, ex-law enforcement officers who have the knowledge and understanding in how to investigate any alleged law violation. 
After your investigation is complete, I shall meet with the arresting officer and the prosecutor to persuade the State Attorney's Office not to file charges against you.  An open, transparent, and honest line of communication with the detective and prosecutor is invaluable for: bond, evaluation of the alleged evidence, discovery issues, and potential plea negotiations. 
Any individual accused of a crime must retain an experienced defense team capable of protecting you throughout this most difficult process.
While I was a student attending Nova Southeastern University School of Law, I became a certified legal intern prosecuting cases for the Broward County State Attorney's Office in the Spring of 1990.  I prosecuted misdemeanor cases in county court prior to my admission to the Florida Bar.
Upon being admitted to the practice of law by the Florida Bar in September 1990, I was employed as an Assistant State Attorney by the Broward County State Attorney's Office.  I was responsible for prosecuting individuals accused of misdemeanors such as driving under the influence, petit theft, assault, and battery.  In September 1992, I was promoted to county court supervisor.
In December 1992, I was promoted to felony circuit court responsible for prosecuting individuals accused of aggravated battery, aggravated assault, robbery, burglary, firearm offenses and felony narcotic violations.  In November 1993, I was promoted to "Lead Prosecutor", Felony Trial Unit.
In August 1994, I was promoted and assigned to the Broward County Sex Crimes / Child Abuse Unit.  As a former prosecutor, I conducted numerous "pre-filing interviews".  I communicated consistently with detectives and made the ultimate decision whether to charge an individual with a sex / child abuse crime. 
Upon leaving the State Attorney's Office in 1997, I have dedicated my professional life defending individuals charged with serious crimes.   Please utilize my extensive training, background and experience to defend and protect you and your loved ones.  I will carefully examine each aspect of your case.  From the interviews conducted, the alleged evidence derived from the crime scene, and most importantly, the alleged victim.  Motive, intent, bias, and prejudice of the government's alleged victim and witnesses shall be brought forward before the detective, prosecutor, and Court.
24 HOURS A DAY / 7 DAYS A WEEK
(954) 567-0300 (561) 929-3051