You are here
ASSOCIATION FORECLOSURE DEFENSE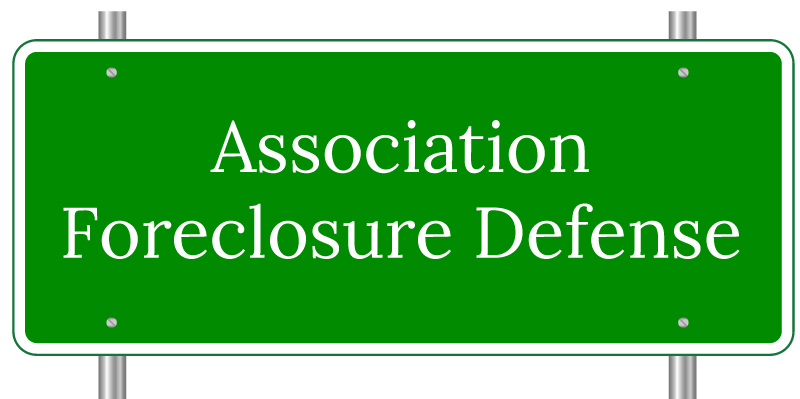 ---

---
1.   BEHIND ON DUES/ASSESSMENTS
Most homeowners have fallen behind on condo/HOA dues or assessments. Whether it's due to medical bills, loss of income, death of a spouse, we understand because we have been through it ourselves.
Unfortunately, you can lose your home through an association foreclosure even if you do not have a mortgage on your property. A homeowner's association can foreclose on your home for untimely or nonpayment of dues, assessments, citations, or any failure to resolve issues cited by the homeowner's association.
Unlike a mortgage foreclosure, a condo/HOA acts quickly and often silently. Association law was written by association lawyers.
If a homeowner receives a demand letter from a condo/HOA attorney, Florida law requires the attorney be paid before your outstanding underlying debt owed to the homeowner's association. Therefore, if you pay late resulting in an accrued late fee, a homeowner can be responsible for thousands of dollars in attorney fees. This explains why a condo/HOA will not notify you prior to assigning your account to their foreclosure attorney.
ONCE ASSIGNED, YOU SHOULD RECEIVE TWO LETTERS IN THE MAIL PRIOR TO THE CONDO/HOA FILING A FORECLOSURE ACTION.
---
2.   NOTICE OF INTENT TO RECORD A LIEN LETTER
First, a "notice of intent to record a lien" letter must be sent by regular and certified/registered mail. This notifies the homeowner that if payment is not made, a lien shall be recorded. Once 30 days passes from the date of the letter without payment, the association may record the lien in public records.
---
3.   NOTICE OF INTENT TO FORECLOSE ON THEIR LIEN LETTER
Second, the association attorney shall send you a "notice of intent to foreclose on their lien". After 45 days have elapsed from the date of this notice, the association can file their foreclosure complaint. The notice must be sent by regular and certified/registered mail.
In our experiences defending association foreclosures, a homeowner will attempt to communicate with the association attorney once he or she receives the intent to foreclose.
Unless you have an agreement reduced to writing and executed by the parties, they will proceed with the foreclosure without delay or hinderance. Attorney's fees accrue with every phone call, fax, and e-mail regardless of whether they respond.
---
4.   INTERRUPTION OF SERVICES
A foreclosure defense attorney may be able to protect you from the association prohibitng you from common areas such as the community pool, gym, clubhouse, cable TV, parking, and even gate access. This can occur prior to the foreclosure being filed.
---
5.   FORECLOSURE COMPLAINT IS FILED
Association foreclosure lawyers utilize nothing more than "cookie cutter" complaints. The complaints are vague, lacking specificity as to the alleged failure of the homeowner. The complaint is electronically filed with the clerk's office in the county wherein the property is located.
The lack of specificity in the complaint answers the questions you have raised as to why the complaint does not contain your payment history, the reason you fell behind, the e-mails, phone calls, and office visits you made to avoid foreclosure.
THE COMPLAINT'S VAGUENESS MAKES IT EASIER FOR THE ASSOCIATION TO RENT YOUR PROPERTY AND MAKE MORE MONEY.
---
6.   20 DAYS FROM SERVICE TO RESPOND
After the complaint is electronically filed with the clerk of court, your association will attempt to "serve" you with the law suit. Service simply means that a copy of the complaint must be served by: (1) Individual service. Individual service occurs when the lawyer's process server hands you the complaint at your home or work. (2) Substitution service. Substitution service occurs when a process server hands the complaint to a relative living in your home. (3) Service by publication. Service by publication occurs when the lawyer notifies the homeowner by publishing the foreclosure complaint in a local newspaper where the foreclosed property is located.  Service by publication is primarily utilized when an individual homeowner does not live in the foreclosed property. This is common for investment owners who receive rent, snowbirds, or relatives living in the family home.
QUASHING SERVICE
Service by substitution and publication can be challenged by examining the "affidavit of service" generated by the association's process server. We have seen countless examples in which an individual "accepted" service without authority on behalf of the homeowner. It is common practice for Plaintiff's firms to use service by substitution and publication without exercising "due diligence" by attempting individual service. When this occurs, we can quash service and stop the foreclosure from moving forward.
LEAVING THE COMPLAINT AT YOUR FRONT DOOR IS NOT SERVICE. THIS IS ANOTHER EXAMPLE OF THE ASSOCIATION'S GREED VIOLATING YOUR RIGHTS AS A HOMEOWNER.
---
7.   DEFAULT
YOU CAN NO LONGER DEFEND YOUR HOME.
ONCE THE HOMEOWNER IS "SERVED", A "RESPONSIVE PLEADING" MUST BE FILED WITH THE CLERK OF COURT AND THE ASSOCIATION'S ATTORNEY WITHIN TWENTY (20) DAYS OF SERVICE.  FAILURE OF A HOMEOWNER TO FILE A RESPONSIVE PLEADING WITHIN 20 DAYS FROM SERVICE MAY RESULT IN A DEFAULT.  
QUITE OFTEN THE ASSOCIATION'S LAWYERS WILL SERVE BY PUBLICATION TO EXPEDITE A DEFAULT.  DEFAULTS ARE OFTEN OBTAINED THROUGH IMPROPER SERVICE.
DO NOT LET A DEFAULT BE ISSUED AGAINST YOU. WHEN A DEFAULT IS ENTERED, YOU HAVE ADMITTED:
Receiving timely notice of intent to record a lien.
Receiving timely notice of intent to foreclosure on the lien.
Owing money to the association.
Failing to pay.
Standing to file the law suit.
Judgement.
UPON DEFAULT, YOU CANNOT FILE:
Responsive pleading.
Motion to dismiss.
Affirmative defenses.
IF A DEFAULT IS ENTERED AGAINST YOU, THE ONLY ISSUE THAT CAN BE RAISED IS THE AMOUNT OWED.
UPON A DEFAULT, THE ASSOCIATION ATTORNEYS ARE NOT REQUIRED TO PROVIDE YOU WITH HEARINGS, PLEADINGS, FILINGS, AND MOTIONS.
MOST IMPORTANTLY, YOU MAY NOT RECEIVE THE NOTICE OF HEARING AND MOTION FOR DEFAULT FINAL JUDGEMENT. 
THE DEFAULT RESULTS IN A FINAL JUDGEMENT WITHOUT PRIOR NOTICE, AND A SALE OF YOUR PROPERTY WITH LESS THAN 30 DAYS FOR YOU TO TAKE ACTION.
WE CAN PREVENT A DEFAULT. WE KNOW WHAT TO DO. DEPENDING ON YOUR SITUATION, WE SHALL FILE:
A motion for extension of time to respond to the complaint.
A motion to abate proceeding.
A motion to dismiss the complaint.
An answer and affirmative defenses.
EVEN IF A DEFAULT HAS BEEN ENTERED WE CAN STILL HELP.
WE CAN FILE A MOTION TO VACATE THE DEFAULT AND/OR A MOTION TO QUASH SERVICE.
---
8.   SUMMARY JUDGEMENT
In almost every case, the association files a motion for summary judegment. A summary judgement motion is an invaluable weapon for your association to obtain a sale date saving time and money by avoiding the need for a trial. At a summary judgement hearing, witness testimony is not allowed.  Evidence can only be presented through the pleadings that have been timely filed. The association's attorney, based solely on the documents filed, will argue before the Court that there are no questions of fact and law.
DEPENDING ON THE ALLEGATIONS IN THE COMPLAINT, AND WITHOUT A HEARING, SUMMARY JUDGEMENT MAY BE REQUESTED 21 DAYS AFTER SERVICE.
DEFENDING AGAINST SUMMARY JUDGEMENT
The most effective tool in preventing summary judgement is an affidavit in opposition to the motion. The affidavit creates a question of fact that prevents summary judgement and a sale of your home.
We will review all the documents with you and prepare the affidavit in opposition to the motion. 
Another effective tool in preventing summary judgement is an answer and affirmative defenses to the complaint. When filed, the answer creates issues of law preventing summary judgement.
WHETHER AT A SUMMARY JUDGEMENT HEARING OR TRIAL, MIDLER & KRAMER WILL NOT RELY ON THE DOCUMENTS PROVIDED BY THE ASSOCIATION.  WE CHALLENGE THEM.  EVERY DOCUMENT RECEIVED SHALL BE SCRUTINIZED AND QUESTIONED THROUGH DISCOVERY AND DEPOSITIONS.
Does the Plaintiff named in the complaint have the right to sue you?
Did the Plaintiff comply with the terms and conditions of your governing documents?
Does the complaint support a foreclosure?
Whether there are defects in the notice of intent to record the lien letter?
Whether there are defects in the notice of intent to foreclose lien letter?
Whether there are defects in the recorded lien?
Whether there are defects in the amounts owed?
BRING IN THESE DOCUMENTS AND WE WILL EXAMINE WHETHER:
THE NOTICES WERE SENT?
IF SENT, WERE THEY TIMELY?
WERE THEY SENT BY REGISTERED/CERTIFIED MAIL WITH A RETURN RECEIPT?
WERE THEY SENT TO THE PROPERTY ADDRESS?
 WERE THEY SENT TO THE HOMEOWNER'S MAILING ADDRESS IF DIFFERENT?
IF THESE DEFECTS EXIST, NOT ONLY SHOULD THE CASE BE DISMISSED, BUT WE CAN RECOVER THE ATTORNEY'S FEES YOU INCURRED IN DEFENDING THIS CASE.
OTHERWISE, WE MUST PROTECT YOUR INTERESTS AND EXPLORE SETTLEMENT.  THIS CAN TAKE THE FORM OF A NEGOTIATED AND STRUCTURED PAYMENT PLAN OR A LUMP SUM SHORT PAYOFF.  WE MAY DO SO THROUGH MEDIATION OR DIRECT NEGOTIATION WITH THE ASSOCIATION LAWYERS.
---
9.   SALE DATE
Once a judgement is entered an online auction will be set to sell your property. You should receive a notice of sale in the mail but so often we are told that does not happen. On the sale date, the property is auctioned and typically your association is the winning bidder.
You can track the online auction of your property by going to:
MIAMI-DADE COUNTY: https://www.miamidade.realforeclose.com/index.cfm?zaction=USER&zmethod=CALENDAR
BROWARD COUNTY: https://www.broward.realforeclose.com/index.cfm?zaction=USER&zmethod=CALENDAR
PALM BEACH COUNTY: https://mypalmbeachclerk.clerkauction.com/
DEPENDING ON THE AMOUNT OF THE SALE, AND HOW MUCH YOU OWE, THERE MAY BE:
Surplus funds: 
We can file a motion for surplus funds if the property is sold for more than the judgement.
Third party purchaser: 
If the property is sold to a third party, they will have you removed as quickly as possible.
THE DAY AFTER THE SALE, THE CLERK OF COURT SHALL ISSUE A CERTIFICATE OF SALE, AND AFTER 10 DAYS, IF NO OBJECTION IS FILED, TITLE TO YOUR PROPERTY WILL TRANSFER.
---
10.   CERTIFICATE OF TITLE
Certificate of title is issued by the clerk of court 10 days from the certificate of sale which transfers ownership of your property to the winning bidder.
Once the certificate is issued, you are no longer the owner of the property. You do not own the appliances and may not remove them.
YOU STILL HAVE A RIGHT TO REMAIN IN THE PROPERTY!
---
11.   WRIT OF POSSESSSION
ONCE THE NEW OWNER OBTAINS THE CERTIFICATE OF TITLE, THEY WILL FILE A MOTION FOR WRIT OF POSSESSION.  A WRIT OF POSSESSION AUTHORIZES THE NEW OWNER TO PROCEED WITH AN EVICTION.
MIAMI, BROWARD, AND PALM BEACH CLERKS OF COURT MAY ISSUE THE WRIT OF POSSESSION WITHOUT A HEARING.  YOU WILL NOT KNOW ABOUT THE WRIT OF POSSESSION UNTIL A 24 HOUR EVICTION NOTICE IS POSTED ON YOUR DOOR.
WE CAN ENSURE THIS DOES NOT HAPPEN.
OUR REPRESENTATION COMPELS THE NEW OWNER TO GIVE YOU NOTICE PRIOR TO A 24 HOUR EVICTION.
THIS IS THE ONLY WAY YOU WILL KNOW ABOUT THE EVICTION BEFORE THE 24 HOUR NOTICE IS POSTED ON YOUR DOOR.
---
12.   24-HOUR EVICTION
ONCE THE CLERK OF COURT ISSUES THE WRIT OF POSSESSION, LAW ENFORCEMENT FROM BROWARD, MIAMI-DADE, AND PALM BEACH COUNTIES WILL POST A 24-HOUR EVICTION NOTICE ON THE PROPERTY. YOU HAVE ONLY 24 HOURS TO MOVE. THE 24-HOUR NOTICE INCLUDES WEEKENDS AND HOLIDAYS.
THERE IS NOTHING YOU CAN DO TO DELAY OR STOP THE EVICTION UNLESS THE SHERIFF RECEIVES A
 JUDGE'S ORDER.
WE HAVE DONE IT.
 WE CAN DO IT.
 CALL US.
WE ARE AVAILABLE 24/7 TO FILE AN EMERGENCY MOTION TO STOP THE EVICTION.
WE WILL CONTACT A JUDGE ON WEEKENDS, HOLIDAYS, AT ANY TIME DAY OR NIGHT.
WE WILL IMMEDIATELY CONTACT THE NEW OWNER TO NEGOTIATE:
Extensions of time
Lease agreements
Short payoffs
Cash for keys
ASSOCIATION FORECLOSURE DEFENSE IN FT. LAUDERDALE, BROWARD, MIAMI-DADE, PALM BEACH, AND THROUGHOUT THE STATE OF FLORIDA
Who We Are
Wayne Scott Kramer and Lewis Steven Midler, MIDLER & KRAMER, P.A.
Midler & Kramer, P.A. is a family run law firm which began in 2001. Together, we bring 46 years of combined legal experience in order to achieve your goals. As family, we have developed excellent communication transforming our firm into an aggressive legal team. A common complaint about lawyers is a lack of communication with their clients.
We understand this frustration and that is why you will have access to your case 24 hours a day.
MR. MIDLER WAS A FORMER ASSISTANT STATE ATTORNEY, BROWARD COUNTY, FLORIDA, AND IS READY TO WORK FOR YOU!
---
The Law Offices of Midler & Kramer, P.A.
120 East Oakland Park Blvd, Suite 203
Fort Lauderdale, FL 33334
(954) 567-0300 - (561) 929-3051
---
To reach us by email click here